Who can participate?
Any undergraduate or postgraduate student.

P.S : There are no institute restrictions.

Projects under the event you can contribute to with label opencode
Timeline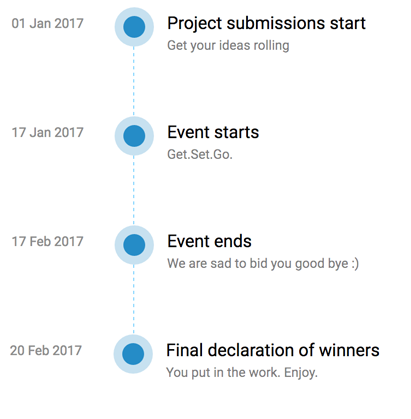 An Open Source Event : A Mini GSOC
How this works
Participants are required to solve the issues and earn points.
The participants with the maximum points at the end of the event (17 February) will be adjudged the winner.
Projects registered for the event can be solved to earn points. All of them can be found at foss iiita organisation with label opencode.
Prizes
Prizes (Cash prizes as well as Goodies) will be awarded in the following categories:
Grand prize winner (selected from the TOP 5 by the organizers) : Cash prize worth 2.5k, T-shirt and Certficates.
Top 5 Participants based on points: T Shirts, Certificates and a cash prize worth Rs. 500/-
Participant with most points : T-shirt, Certficates and cash prize of 1k
Every participant will be awarded a digital participation certificate.
Top 5 will get direct admission to Hack In the North
Amazon gift voucher worth Rs. 300/- will be presented to one lucky participant who puts the OpenCode poster as his facebook or tweets during the event.
Only for IIITA students: Foss selection for next year will be from this event. A minimum of 50 points is required to apply.
Want to participate?
Add yourself to Student section in opencodecolab
Do you have an exciting idea for a project or want us to help you with your previous one? Click here
Scoring Criteria
Issues will be graded into three categories by the team. The grading will be done before the pr is sent.
Category A: 10 points
Category B: 20 points
Category C: 30 points
Category D: 00 points
For example, multiple pr to awesome lists and readme will fall under category D.
Contact Us
Want to sponsor the event / other queries? Contact Gautham or Connect on Gitter
List of all the organizers can be found here.